The Isaac Hansen Family.

  Front row:  Lester, Thorvald, Mary; second row, Isaac Jr., Isaac Sr., Sarah, Lavina and Edmond; back, James.  The picture was taken about 1890.

Lavina Richardson

  Lavina Richardson Hansen was born August 16, 1864, in Payson, Utah. She was the only daughter of Shadrach and Sarah Haskel Aimes Richardson. She was only four years old when her mother died, but her father was both mother and father to her.

  She was married while still in her teens to Isaac Hansen, a promising young farmer of Benjamin, Utah.

  She was a hard working woman always striving to make a happy home for her husband and children. She was the mother of eight children.  She died when stricken with scarlet fever on December 21, 1900.  She was survived by:

  Isaac Hansen Jr. (died Nov. 1, 1936), wife Laverne Moore Hansen, Benjamin, Utah; James W. Hansen, wife Fern Greene Hansen, Payson, Utah; Edmond Hansen, wife Della Humphrey (died Nov. 26, 1935), Benjamin, Utah; Sarah Hansen Bryan, husband Rock Bryan, Payson, Utah; Franklin Hansen, wife Dora Thorne Hansen, Benjamin, Utah; Lester Hansen (died June 23, 1929), wife Alpha Sorensen (died Jan. 20, 1927); Mary Hansen Clayson, husband Archer Clayson.

  There are 40 grandchildren and 18 great grandchildren.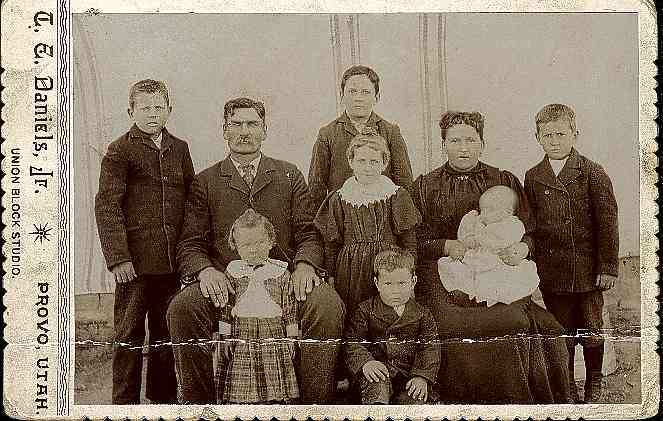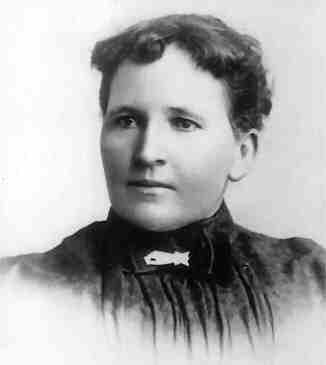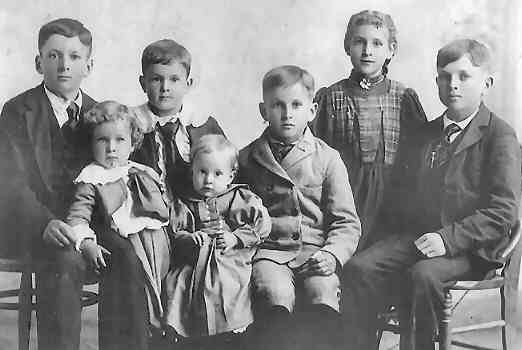 Isaac and Lavina's children, photo circa 1897:

Front Row (L-R)  Lester Hansen, Thorvald "T" Hansen, Edmond "Ed" Hansen

Back Row: James "Jim" William Hansen, Franklin "Frank" Hansen, Sarah Hansen Bryan Isaac "Ike" Hansen Jr.

To return to the Richardson Family index page, click
here
.
.