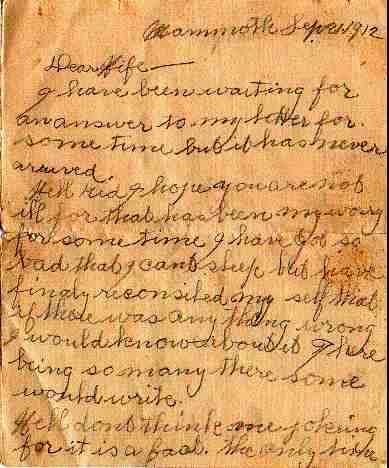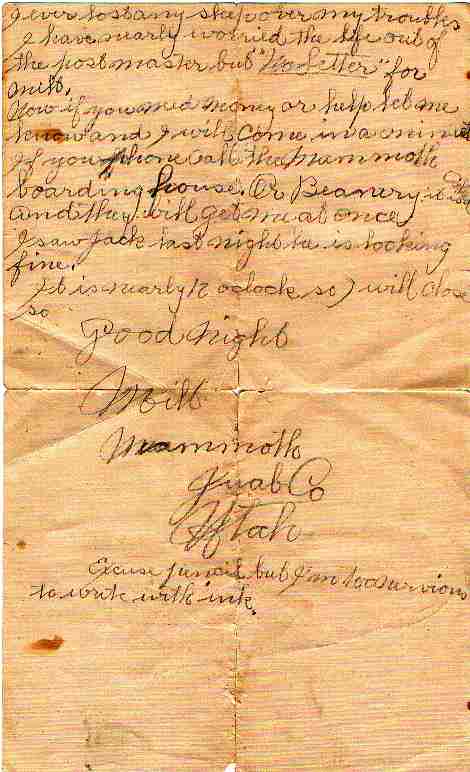 Mammoth Sep 21 1912

  Dear Wife--

  I have been waiting for

an answer to my letter for

some time but it has never

arrived.

  Well kid I hope you are not

ill for that has been my worry

for some time.  I have got so

bad that I cant sleep but have

finaly reconsiled my self that

if there was any thing wrong

I would know about it.  There

being so many there some

would write.

  Well dont think me joking

for it is a fact.  The only time

I ever lost any sleep over my troubles.

  I have nearly worried the life out of

the postmaster but "No Letter" for

Milt.

  Now if you need money or help let me

know and I will come in a minit

  If you phone call the Mammoth

boarding house.  Or Beanery it is a cross

and they will get me at once.

  I saw Jack last night he is looking

fine.

  It is nearly 12 oclock so I will close

so


Good Night

  Milt
            Mammoth

                     Juab Co



      Utah

Excuse pencil but I am too nurvious
          to work with ink.

  Milt and Maggie were married in February 1912, but the need to earn a living required him to live and work in the mines at Mammoth.  His wife was living with her parents in Spanish Fork.  Two weeks after this letter was written their first child would be born, a son whom they named Milton Evans Richardson.  These were anxious moments for Milt, and this anxiety is spelled out plainly in every sentence.