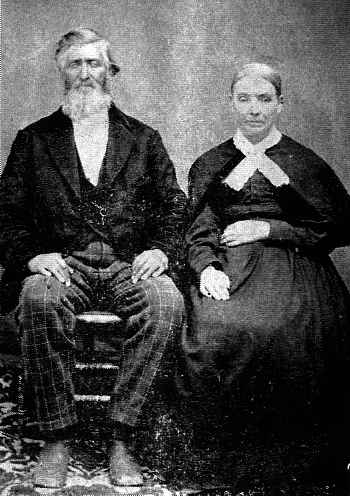 Apparently this is an earlier picture of Benjamin F. and Polly. 

   It was provided courtesy of Wanda Gardner Thatcher.

<p.17>

Polly Richardson Stewart

  Polly Richardson Stewart, daughter of Shadrach and Elizabeth Garret Richardson, was born in Cumberland county, Kentucky, April 27, 1818, one of a family of twelve children, seven boys and five girls. As she grew in years she shared in the responsibilities and work of the home and learned to be generous and kindly and industrious.

  Polly was a pupil in all the characteristics which build for noble womanhood. She was inured in her childhood to the hardships and privations of their kind of life. Battling with circumstances of this kind often develops traits of character, powers and possibilities that can be brought out in no other way.

  When Polly was fifteen years old her family moved to Illinois. There she met a son of Sarah Scott Stewart by the name of Benjamin Franklin Stewart. They became interested in each other. This interest ripened into love and in 1837 they were married, both being nineteen years of age. They were married in Beardstown and a month later, with the rest of their families they moved to Iowa and made their home on Fox river, Van Buren county. Here six children were born to them, three of whom died in infancy. Franklin and Polly were both God loving people and both were blessed with faith and a gift of understanding of spiritual things. Here the Elders of the Church of Jesus Christ of Latter Day Saints commonly called the Mormons, found them and taught them the gospel of Jesus Christ.  They believed and accepted the teachings of the elders and were baptized and confirmed members of the Mormon church in 1842.

  They did not gather with the main body of the church in Nauvoo, Ill., but joined them in their exodus at Winter quarters in Nebraska after the people were driven from their homes in Nauvoo by a savage mob.

  Benjamin Franklin Stewart was one of the 143 men selected to go west with Brigham Young to find a place of refuge for the exiled saints.  Polly and her three children followed with the first company leaving winter quarters. She drove one team of oxen and cared for her children.  A hired man drove her other oxen and wagon and cared for the teams.

  Polly joined her husband at the Platte river where he and seven other men had been left to keep a ferry to help the oncoming saints over the river. They traveled the remainder of the journey to Utah together.

  They made their home in Mill Creek, near Salt Lake City, until 1851 when they moved south to Utah county and assisted in the founding of the City of Payson.  Polly was the mother of eleven children, eight daughters and three sons.  Six of her children grew to maturity, married, built homes and raised large families. They are as follows:

  Almeda, born February 8, 1841, married Samuel McClellan; Benjamin Franklin Jr., born February 27, 1845, married Katherine Plowman; Sarah, born November 11, 1850, married John Koontz; Lavina, born April 21, 1852, married Orange Warner; Luther Kimball, born July 25, 1854, married Katherine Haskell; Eunice Polly, born April 29, 1860, married Dennison E. Harris. She is the only living member of the family and now (March 1, 1940) resides at 260 East 5th N., Provo, Utah.

  Polly Richardson Stewart passed through all the hardships, trials and privations incident to pioneer life as well as the terror of the Indians.  With the other settlers in Utah county she suffered the terrors and hardships of the Walker and Black Hawk Indian Wars. She always preformed her part uncomplainingly by taking care of her home and family, carding, spinning, dyeing and weaving the linsey for blankets, flannels for dresses and jeans for the men's and boys' suits during the day and fashioning and patiently stitching them into clothing by the light of tallow candles at night.

    Industry, frugality and economy seemed to the be the slogan in every <p.19> pioneer home.

  During the Indian trouble Polly was as brave and unterrified in meeting real danger as she was uncomplaining and heroic in facing hardships, trials and privations of a pioneer country. One could not help feeling the strength of her courage and bravery.

  The success and pleasures of Polly's and Franklin's whole life was intermingled with sorrow, trials, hardships and disappointments, but they accepted them all uncomplainingly.  Her husband was killed June 22, 1885, by lightning. During the later years of her life she made her home with her daughter Sarah Koontz.  She passed away in April 1893, and was buried beside her husband in the Benjamin cemetery.

  Polly had a retiring, timid personality and shunned everything of a public nature, but was always aggressive in searching for opportunities to help others. She loved her children and her home and was helpful, generous and sympathetic to those who were less fortunate than she.

In 1960, Janet Jensen wrote a thesis on Benjamin F. Stewart.  To read it, click
here
.
To return to the Richardson Family index page, click
here
.
Benjamin Franklin Stewart and Polly Richardson Stewart.

This photograph and one of Shadrach Richardson are the only existing photographs of members of the family of Shadrach Richardson of Kentucky.  Mr. Stewart accompanied Brigham Young on his first trip to select the Utah site for his people and Polly went there with the first migration.

This picture and the above caption appeared in the Richardson Family booklet.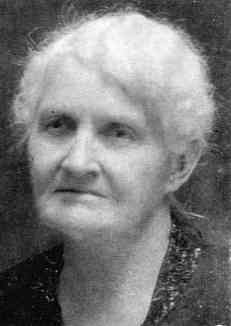 Mrs. Eunice Polly Harris of Provo, Utah.

Mrs. Harris is the only surviving child of Benjamin Franklin and Polly Richardson Stewart.  Mrs. Harris, Mrs. Mary E. Colby of McMinnville, Oregon and David Richardson of Alberta, Canada, [as of 1940 were] the only remaining first generation descendants of the four children of Shadrach Richardson of Kentucky who migrated to Utah and Oregon.

Killed By Lightning.--By special telegram just received we learn that Bishop Benjamin F. Stewart, of Benjamin, Utah county, while sitting in his carriage, close by his house, in that place, at ten minutes past twelve today, was struck by lightning, and instantly killed.  The horse was also struck at the same time, and more or less injured.

  Brother Stewart, who was one of the very earliest settlers of this country, was widely known and greatly respected as a man of sterling integrity and worth; a man of considerable influence, which has invariably been exerted in the right direction.

  While we may not wish to spare such men, we must acknowledge that God knows best, and bow to His decrees.

--Deseret Evening News, Jun 22 1885

CORRESPONDENCE

DEATH OF B.F. STEWART

PAYSON, JUNE 22, 1885.

Editor Deseret News:

  It becomes my painful duty to report the sudden death of our beloved brother, Benjamin Franklin Stewart, of Benjamin, Senior President of the 46th Quorum of Seventies, and Presiding Elder of the settlement that bears his name.  He came to Payson this morning in his carriage.  I conversed with him twice.  He was in excellent spirits.  Our conversation was on the subject of the second coming of Christ, which he felt could not be delayed beyond the year 1891.  He started for home about 11:30 a.m. and reached his residence, about two miles north of here, during a hail and thunder storm.  He was sitting in his carriage at the east end of the house when a bolt of lightning struck the chimney, and glancing down, killed him instantly.  The horses took fright and ran away, but were stopped by J.J. Koontz, son-in-law of the deceased.

  The funeral services will be held on Wednesday.

  Our brother was a faithful and good man, and leaves a large family and many other relatives, with a large circle of personal friends, to mourn his sudden departure.  He was one of the Pioneers, and had done much for the building up of our Territory.

  Your Brother in the Lord,







ISAIAH M. COOMBS.
--Deseret Evening News, Jun 25 1885

O B I T U A R Y .

  Benjamin Franklin Stewart, who was killed by lightning at Benjamin, Utah Co., U.T., June 22d, was the 9th child of Philandar B. and Sarah Scott Stewart.  He was born October 23d, 1817, in Jackson Township, Monroe County, Ohio; migrated to Illinois with his father's family when 11 years of age.  September 14th, 1837, he married Polly Richardson and soon after moved into VanBuren Co., State of Iowa, when he received the Gospel February 26th, 1844, and was the same day ordained an Elder.  Removed with other exiles to Keg Creek, was ordained a Severnty by President Joseph Young April 6th, 1847.  Soon after this latter event he started with the Pioneers to hunt a refuge for the fleeing Saints.

  He was one of seven men left out of the Pioneer company at Platte River, in the midst of an Indian country to ferry over the families of the Saints who followed that season.  He arrived in Salt Lake City September 27th, 1847, and has ever since been an active laborer in building up the Zion of the Lord in the tops of the mountains.

  November 28, 1849, he started in company with Apostle Parley P. Pratt and about forty-eight others, with ox teams, to explore the southern part of Utah.  On this trip he necessarily encountered many hardships and privations but was never heard to complain.

  In March, 1851, he removed to Payson, where he made a permanent home, and where he was recognized as a leading spirit religiously, politically and temporarily.

  In 1858 he was set apart as one of the seven Presidents of the 46th Quorum of Seventies, which position he occupied at the time of his death.

  April 27, 1862, he was set apart as Second Counselor to Bishop John B. Fairbanks, of Payson Ward, which position he filled creditably until August, 1871, when a reorganization of the ward took place in consequence of the absence of the Bishop on a mission to England.

  At a municipal election held February 9, 1863, Brother Stewart was elected mayor of Payson City, and served in that office for two terms of two years each.

  In October, 1869, he was sent on a mission to the Western States, upon which he was absent several months doing good service.

  In 1862, he, whith his brother Andrew Jackson Stewart and others, laid the foundation for a town three miles north of Payson, which was named Benjamin in his honor, thus fulfilling a prophecy that was made concerning him by Patriarch John Smith, when he gave him a patriarchal blessing in the year 1847.  At this place he located his two wives, all his sons, and nearly all his daughters, and in 1871 he was appointed to preside over the branch thus built up mainly through his instrumentality.  This position he also occupied at the time of his death.

  The funeral services were conducted under the shade of a fine grove of trees that had been set out by Brother Stewart's own hands some years ago, and were conducted by Bishop Tanner of Payson.  The Payson choir was present and led the singing.  The speakers were Elder Henry G. Boyle, Isaiah M. Coombs, and David Lant.  The body was interred in the Benjamin cemetery, the site for which had been selected by Brother Stewart, and was followed to its last resting place by a cortege of 62 wagons and carriages containing three or four hundred persons.  The grave was dedicated by Elder Worsencroft, of Payson.











I.M. COOMBS.

Territorial Enquirer
please copy.
--Deseret Evening News, Jun 30 1885

To return to the top of this page, click
here
.
To return to the Richardson Family index page, click
here
.
.